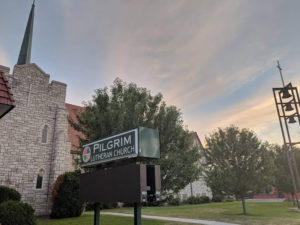 We are closed through March with no services and no activities. April info to be determined.
Sermons will be available online each week and online donations can be accepted by clicking the Donations button above.
Welcome to Pilgrim Lutheran Church
Ministry to All in the Heart of Superior since 1888
We are a family of Christians, created by God in Christ, and empowered by the Holy Spirit, lovingly Lutheran, whose mission is to serve the church family and the community through worship, learning, service and support. Our focus is on preaching, teaching, spiritual growth, service to others, mutual support, and administering our resources so we serve God to the fullest.
The Pilgrim Church building, with handicap accessibility, is generously shared with the community at large. From UWS International Cooking events to weekly support group meetings Pilgrim provides a comfortable, welcoming environment in support of positive fellowship and local worthwhile causes. Click here to contact us if you would like to use the building.
---
Sunday morning worship services are at 9:30 am. We have fellowship before and after service each Sunday.
Youth education for children pre-K thru grade 6 will resume on Sunday mornings at 9:00 am in January. Education for older kids and confirmation classes are Wednesday evenings starting at 4:00 pm at Zion Lutheran Church, 2022 E 2nd St in Superior.
Office hours at Pilgrim are Monday thru Thursday from 9:00 am - 1:00 pm.
Giving Online
You can now manage your giving online. Giving online is easy and allows you to make a one-time donation or set up automatic recurring contributions. You control your own giving frequency. And, you can view your complete online giving history from anywhere you have access to the Internet. Contributions can be set up to debit automatically from your checking or savings account or with your credit/debit card. Our electronic giving program offers convenience for you and much-needed donation consistency for our congregation. Simply follow these easy steps:
1. Click on the "Donations" menu button above or CLICK HERE. This connects you to our online giving page.
2. Click on the "Create Profile" button and set up how you would like to contribute.
3. Follow the onscreen instructions to create your own personal online profile and to schedule your contributions.