More Time, Good Time
Things to do, places to be and people to see filled our time. They gave us daily good purpose. Two months ago the virus suddenly took away those things and replaced them with lots of empty time.
I notice how much empty time I have now. Working online, making quick dashes into the grocery store and zoom talks with family, friends and colleagues just don't take much time. Do you find yourself looking at your watch and being surprised that it's only 11 am, because it feels like it's 3 pm? Or have you thought that it's Thursday when it's really only Wednesday? There is so much empty time.
To fill the empty time we could run around as if the virus had magically vanished. A few people are doing that. And I get that desperation sometimes pushes people to do that. But it is finally irresponsibly dangerous, because going out can only lead to more infected people and more empty lock-down time yet in months ahead. Having much empty time is now for many people a sign that they are loving and serving their neighbors by staying home.
Wonderfully, time does not have to stay empty. Empty time can also become more time for little things that always have been and still are all around us. Good things. Beautiful things. Things that are naturally easy to overlook when things to do, places to be and people to see filled so much more of our time.
Like many of you, I walk to get some exercise. I often carry my camera on walks. Normally, I take photos of big things, like landscapes, cityscapes and sunsets. Yesterday I noticed after a walk that my route had taken two hours rather than its normal one hour. Without being aware I was doing it I had stopped to take many photos of little things. Really little things. Buds, flowers and bugs. Things I would not have time to notice in one hour. These little things wonderfully filled what otherwise would have been empty time.
To be clear, I was not so clever that I decided in advance to find a way to meaningfully fill empty time and then successfully did it. No, many good things in our lives find us more than we ever find them. They are gifts. These little things, gifts, found me yesterday. They filled my time and they filled me.
My prayer is that little gifts now find all of us and fill our empty time with beauty, good purpose and with peace that passes our understanding.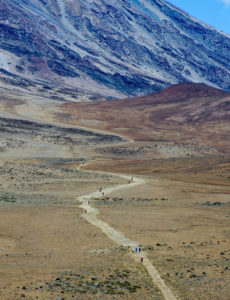 Prayer for Guidance
O Lord God, who has called us your servants to ventures of which we cannot see the ending, by paths as yet untrodden and through perils unknown; Give us faith to go out with good courage, not knowing where we are going, but only that your hand is leading us and your love protecting us, through Jesus Christ our Lord, Amen.
An Ancient Prayer for Courage
O God, where hearts are fearful and constricted, grant courage and hope.
Where anxiety is infectious and widening, grant peace and reassurance.
Where impossibilities close every door and window, grant imagination and resistance.
Where distrust twists our thinking, grant healing and illumination.
Where spirits are daunted and weakened, grant soaring wings and strengthened dreams.
All these things we ask in the name of Jesus Christ, Our Savior and Lord, Amen.
Byzantine Benediction
Go now with God.
Be not tempted to stay in the safety of known places.
Move from where you are to where God points.
Go now with God. Be not tempted to go only in your own time,
when it suits, when it is sure, for now is God's time.
Go now with God.
Choose not to go alone.
Go in the faith that there is no wilderness so vast, no way so confused,
hat God is not already there to show you the way.
Meditation - Were You There?
Wonderful but Still So Distant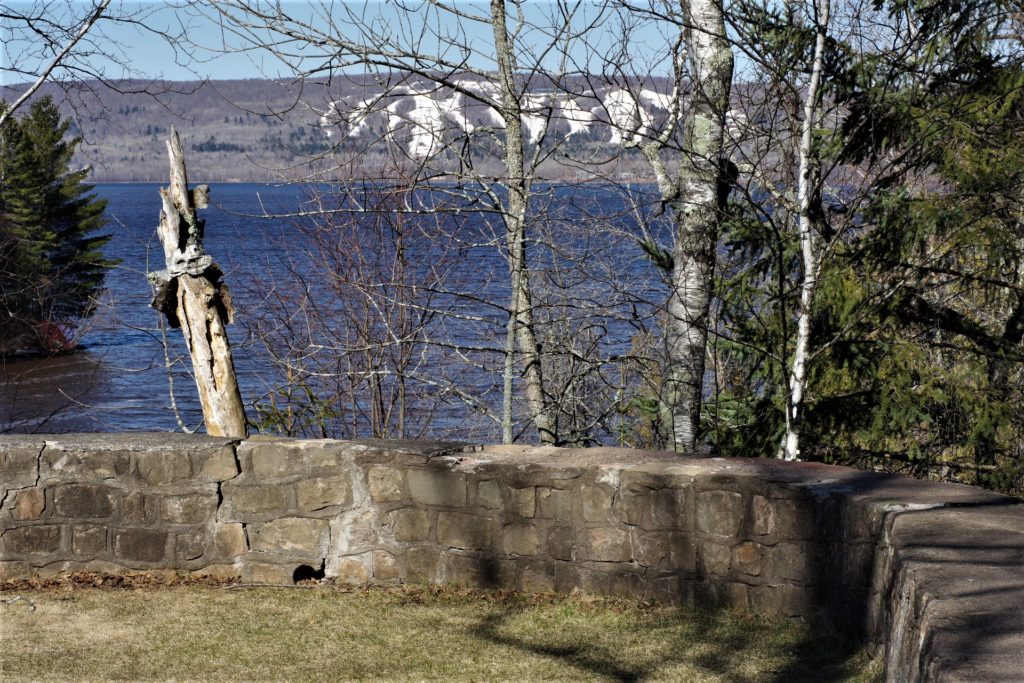 Wonderful But Still So Distant
The snow covered hills in the distance are beautiful. They are in Duluth, Minnesota. The water in the photo is the beautiful St. Louis River Estuary, the largest freshwater estuary in the world. Many of us who live in the Twin Ports go to the hills to hike, bike and ski. At least, we used to go.
Now, imagine going to the Duluth, Minnesota hills, by foot, from where I took this photo in Superior, Wisconsin. The distant hills are somewhat blurred. You can't see any detail of what they are actually like when you are there. And before you can even think about being there you first have to get over the wall. It's low, so hopping it is easy-and also likely to hurt you: Immediately below the wall is a very steep, long muddy slide, with big rocks at the bottom, and then the cold water. Hopping the wall seriously threatens you. And even if you make it safely to the water still leaves you with crossing it. No boat is waiting for you. You could run home and fetch a canoe or kayak if you have one. But capsizing is likely because of big waves from strong spring winds. And 38 degree water kills people in minutes. Yes, a very few people might have motor boats, giving them a decent chance to cross. But most of us don't. You could wait until late December when the ice is thick enough to safely walk to Minnesota. And yes, we can still drive to the hills. But the possibility now always lurks of getting infected by that one person who is not careful about distancing.
Wouldn't it be wonderful to go to the beautiful, familiar hills, like it would be wonderful to go back to our familiar lives? Yes of course. But there are walls in place, like staying at home. Hop the wall and you're on a treacherous slope. Angry waves, icy water and long waits are unavoidably between us and the hills, between us and the better life we hope for even while we can't yet clearly see it. Going there will be complicated. There is not yet a safe enough way to go. It will take a long time to get there.
So, the obvious question: What do we do? A few thoughts…
WAIT. Just wait. With no outcome in mind. See what finds you. New paths ahead find us more than we find them. They find us more easily and we see them more clearly when we push away some of our goals and desires.
LAMENT. In scripture the people of ancient lamented when their enemies dragged them all to far country as slave, for many years. "Dress in black. Blacken your faces with ashes. Weep most bitterly, as for an only child who died. The terror is upon us." (Lamentation 6:26) Do you best to not to go to lamenting on purpose. You might overload yourself with your understandable grief. Like hope and new paths, lamenting will find you and like them is more productive when it finds you.
ENTER what still is beautiful, even if it's not the same. The view of the hills is still beautiful, even when we cannot enter them. The sun that shines on them is still bight and warm on us.
LET'S DO THIS TOGETHER. With people we already know. With people we don't yet know who might show up, far and near, even in some remote way.
IT'S NOT ALL UP TO US. Let's try to remember, and when we can't may someone remind us, and let's remind each other in fitting ways that the Spirit, Creator and Re-Creator of All Life is present, still creating, still re-creating and still together with us.
Spring Blooms and Winter Wind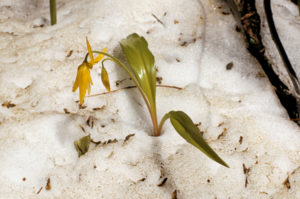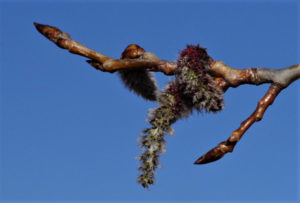 I took these photos when the plants in them whispered spring and everything else screamed winter. The poplar is in our front yard this morning. The temperature is 18 degrees and the wind is sharp. The other photo is of an avalanche lily in the North Cascade Mountains of Washington State.
Both flowers ache to burst out, even when gripped by winter. Isn't that exactly where we are now? Aren't we aching to go out to place we need, like work, and to places we love like a favorite trail or restaurant, aching to be with each other, while necessarily staying at home? The calendar whispers spring while everything else screams winter. The early Christian leader Paul wrote a letter from prison to friends describing a time when he ached for spring while trapped in winter. In effect, his letter explains how to burst out of a stay in place order. "While I'm locked up here I want you to get out there and travel on the road God called you to travel. I don't want any of you sitting around on your hands, or strolling off on some path that goes nowhere. Now, with humility and discipline, pour yourselves out for each other in acts of love. Stay together, both inwardly and outwardly. God permeate everything you are and think and do. (from Ephesians 4)
Icy winds lock us down right now. Staying locked down demands more discipline than we probably have. At the same time God's Spirit calls us to venture out, creatively staying together even when we must be apart. Now, we can pour ourselves out for each other. We can do that phone call by phone call, note by note that we mail, teaching class by online class, courtesy by courtesy we give to people working for us in grocery stores and delivery trucks, and friendly wave by friendly wave we give to people we encounter while out walking. Yes, even then the wind is still bitter. And even then, even when we can't feel it, the warmth still permeates.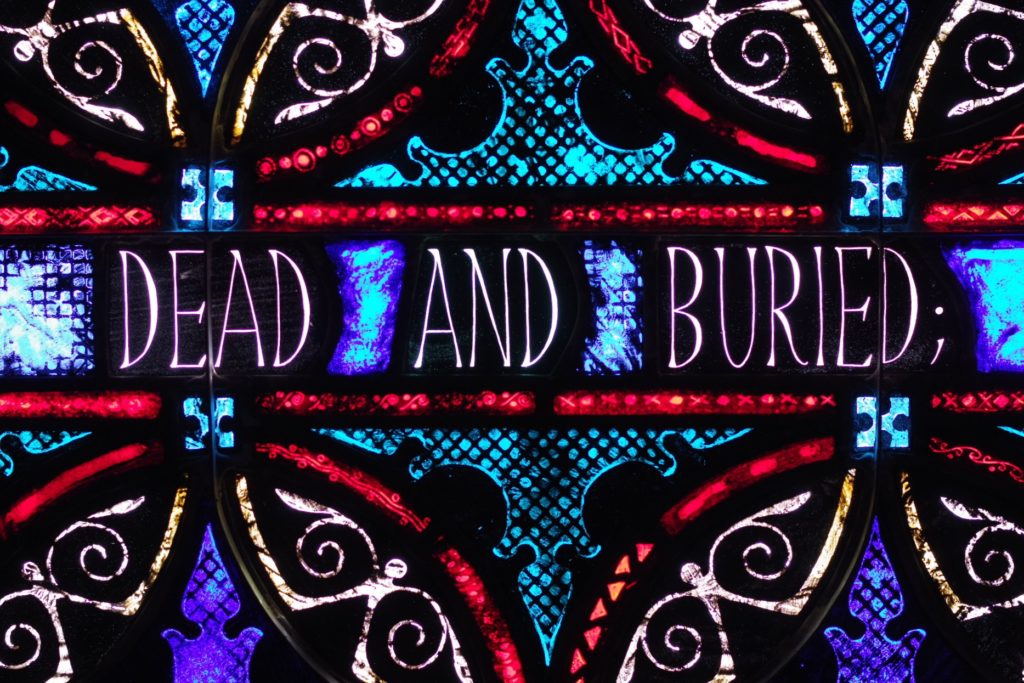 Good Friday 2020 John 18:1 to 19:42
You should totally ignore Good Friday if you want good news. There is nothing good about 'Good' Friday. It's all bad. It's important to know that. There is no good news on any Good Friday, and especially not on this one. Covid 19 underlines that. Good Friday bluntly tells us awful truth. Continue with this sermon only if you are prepared for that!
Start with this bad news: The world is so broken that it sometimes punishes people because they do what is right. Consider this: Jesus fed hungry people. He healed the sick. He comforted broken people. He lifted up oppressed people. He guided people who got lost out of many ways there are to be lost. Pilate was so right when he said, "What has this Jesus done wrong? I find no wrong in this man!"
And yet, what happened to Jesus for doing so much good and no wrong? Slow death by torture. Since then many other people have discovered that they get punished for doing good. Consider Captain Crozier of the aircraft carrier Roosevelt. He spoke out to protect his sailors from Covid 19. Although not Crozier's intent, his speaking out made it obvious that high level officials failed to protect our country's sailors. When exposed, the higher ups scapegoated Captain Crozier and fired him. Bad news: The world is sometimes so broken that it punishes people who do what right, good and necessary.
Here is more Good Friday bad news: The world is so broken that sometimes people who do good inadvertently cause innocent people to suffer. Not even Christ escaped this bitter truth. With all his heart and mind and soul he did good for people who needed what he did for them. One unintended consequence of that? Jesus' mother and closest friends stood by his cross helplessly, suffering to watch him crucified. He did the right things. For that, he suffered. OK, that's awful. Then, making it more awful yet, Jesus' loved ones suffered too, because he had done good.
Question: What kind of world lets a mother suffer when her son gets punished for healing sick children?
Answer: Our kind of world.
I heard an interview with Dr. Anthony Fauci, whom we now know as one of our most trustworthy leaders in the fight against Covid 19. His knowledge, experience and honesty now inadvertently expose the disgusting spin and hollow happy talk we keep getting, especially from one certain high-level elected official. Dr. Fauci's unintentional exposure enrages many of that official's followers and incites many of them to threaten Fauci's life. When asked how he felt about all the threats, Fauci teared up for a moment. He composed himself and said he felt terrible, not for himself, but because the threats make his family worry and fear for him.
Question: What kind of a world punishes people who do good, and also causes the people they love to suffer?
Answer: The world we live in. Our world. Right now.
Good Friday has even bad more news: The Christian concept of the Trinity says that Christ is God. Did you think God was above all of our darkness? Well, think again. Good Friday makes it clear that the world is sometimes so broken that not even God can escape suffering and dying as a result of bringing good to us. No one escapes the evil and suffering that can blanket the world. Not even God escapes it.
To sum up, this is Good Friday's bad news: The world is so terribly broken that sometimes it crushes us for doing good. Then, the punishment we get for doing good may well cause people we love to suffer. And finally, the evil in our world can even break God.
Dr. Willi Marxsen, one of my seminary professors experienced all of this bad news. A German, he was drafted and fought in World War Two as a young man. He got wounded, captured and put in a British prison camp. Because the Germans had carpet bombed English cities, the Brits didn't exactly worry about the well-being of their German prisoners. For example, the British guards never gave the German prisoners enough food. The guards just dumped a little thin, soupy slop into a wooden trough. Then the prisoners fought for it like animals. The strongest, meanest ones always got enough. The sick and wounded prisoners got no food at all. They grew weaker until they died.
One big, strong German prisoner eventually got disgusted with himself for acting like an animal. So he fought even harder yet for the food. He grabbed even more of it--and then gave it away to the sick, weak prisoners. All by himself, he kept some of them alive. He kept my teacher alive.
Deeply moved, my teacher asked the big guy why he did that. The man told him, "I'm a Christian. Jesus gave himself for us when we needed him. And for us, his followers, that finally means we give ourselves for people who need us. That's why I do it."
Now, would you say that the big guy did good? And that he did it for the right reasons? There is no fault in what he did, only good. Right?
So what happened to him? Some other big guys kicked him to death. The weak prisoners started dying again. Outraged, my teacher asked the murderers, "Why did you do that?" Their answer? "Because he took our food."
There is Good Friday's bad news: People killed a man because he did good in God's name. Innocent bystanders suffered. Evil pushed away God's presence and light at least for a time. Even when not that dramatic the world is still that broken world sometimes. Other people could break us if we do something right and good. Other people and maybe even you and I could attack people who do good. Darkness can still crush God's presence like it crushed Christ. That's Good Friday's inescapable bad news.
And yes, I know! I know. Yeah, sure, there is resurrection too. There is new life, at least eventually. But isn't it way too soon to talk about that when we are right in the middle of a very dark night? Isn't it way too soon to talk about resurrection when the only honest thing to say is, "My God, my God, why have you forsaken me?" We are now literally, in the middle of a Covid 19's dark night. It's too early to talk about new life when death is still so strong.
So today, we will not look past the reality that there is nothing good about Good Friday. It smashes us with inescapable evil. It promises that sometimes we can do nothing to stop darkness from overwhelming us. Darkness even overwhelms God.
Does that upset you? Discourage you? Make you mad? Well, if it does, too bad! I warned you to not read this! So too bad for you! TOO BAD, because evil still says exactly the same thing to you that it said to Christ on 'Good' Friday: "Drop dead and go to hell!"
Oh! I almost forgot! If you feel like it, you can stop by the tomb on Sunday to weep over the innocent victim's body.